Review: LATAM flight Iguazu to Rio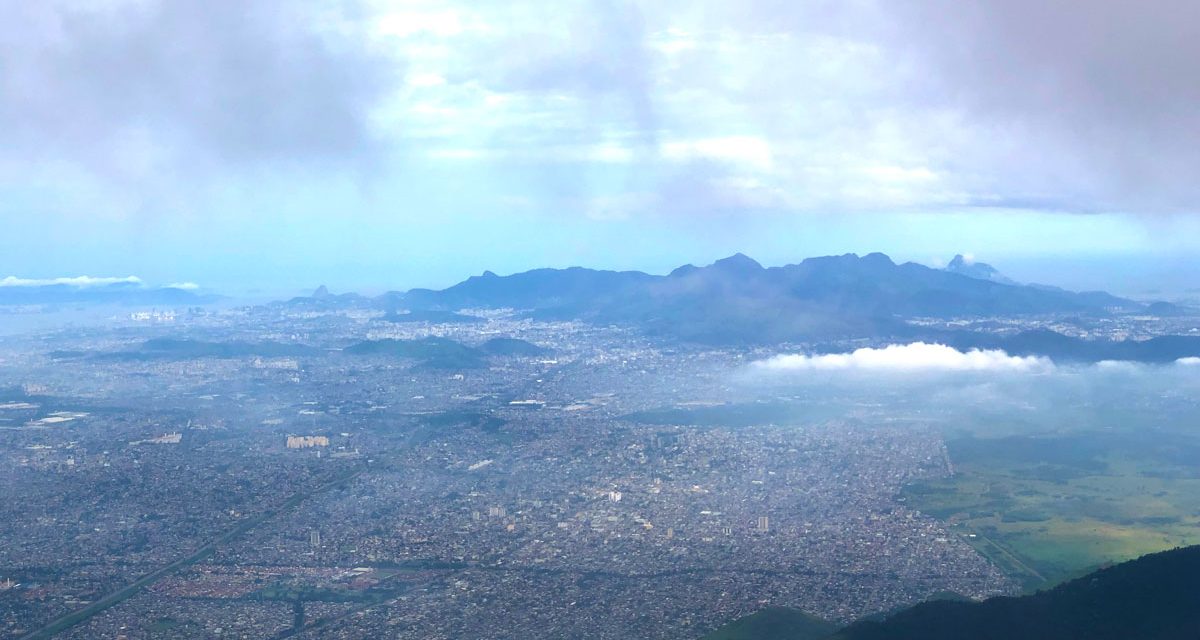 Review: LATAM flight Iguazu to Rio
---
Flight: LA 3738
Route: Iguazú Falls (IGU) – Rio de Janeiro (GIG)
Date: Saturday, 2 March 19
Depart: 1:15 PM (BRT)
Arrive: 3:15 PM (BRT)
Duration: 2 hrs
Aircraft: A320
Seat: 6E & F (Economy Class)
Cost: part of a multidestination ticket AU$2,105 (destinations include: IGU-GIG-LIM-CUZ-LIM-UIO-LIM).
Introduction
This was to be the exciting part of our honeymoon trip – heading off to Carnival in Rio, the Sambadrome, Ipanema Beach, and the Christ the Redeemer statue and Sugarloaf Mountain.
Iguazú Falls form part of the border between Argentina and Brazil, and hence each country has its own airport at the falls, making two airports. Fortunately, you transit the border on land, and our capable driver/guide negotiated the border transfer, while we grabbed a drink. On the downside, the border transfer can be unpredictable, so we needed to leave the Gran Melia Iguazú Falls Hotel, fairly early.
Iguazú Falls Airport (IGU)
Not my favourite airport – that's an understatement. It looks like the airport is undergoing some major redevelopment, and as a result, its a bit crowded, and a bit low on efficiency.
As an example, you go through two sets of security, and it's not clear why. All bags are X-rayed on entry to the airport, and then you go through the usual security scan before boarding. Unlike on our flight within Argentina from Buenas Aires to Iguazú, where we did not need to separate our liquids and electronic devices, on this domestic flight within Brazil, we did.
There was no lounge or at least none that we were aware we had access to, so we were left in the pandamonium of the gates and cafeteria. It may have been peak hour or just a busy airport
Usually, I look forward to almost any airport. After spending an hour waiting at this airport, I couldn't wait to leave. It was crowded, uncomfortable, full of inconsiderate passengers, and just had a general feeling of chaos.
We – well the husband did – queued for chips and some mineral water, which were about the most appealing things on the menu of the cafe, struggled and jostled for a table and a seat, and then . . .
. . . you guessed it our flight was delayed by 10 minutes. No biggie. And then it was delayed by 10 minutes, again.
The flight
Boarding was quick if a bit chaotic. We were able to board in the first tranch because of my OneWorld status, and the 'priority' marked on my ticket. We boarded about 25 minutes late at 13:00
Seats
The Recaro seats were set in a pretty dense formation, with the magazine rack set high to give you better legroom. Given there was no seatback entertainment system, this worked well.
Giving us better than average legroom.
On the downside, these seats feel like they have zero padding on the backs of the seat, and not much more on the seat part of the seat, either.
I was surprised to read this sign on the back of our seats:
No entertainment system, close seat formation, but power points? I was impressed until I located the plug.
Call me old fashioned, but electricity and broken sockets just don't go together if safety is front of mind.
Service
We started down the runway at 13:37 – just shy of 20 minutes late, so not bad given our delay. This was a relatively short flight of under two hours, but it was at lunchtime, so I perused the food and beverage purchase menu.
The menu as you will see was all health, health, health, and perfect for vegans!
Beer and nuts – who can say fairer than that.
Coffee, cake and a toasted sandwich.
A south American Subway?
Or the more ethnically based beer and chips.
Although I do like the simple alcohol choices – red wine or beer.
And it's not like the menu photos were different from the delivered meals, was it?
Here, writing this back in Sydney, I can't remember exactly what I had, but I am pretty sure it involved bread, cheese, and ham or chicken, or possibly both. Not exactly gourmet food, but way better than some of the airline food you get on a domestic flight these days. (Qantas I'm talking to you!)
Service was on the 'low-cost airline' side for this flight, but perfectly efficient. Lack of seatback entertainment was no issue, as I read my book, and listened to podcasts.
Arrival
The Captain called for the crew to prepare for landing at 15:04, and so we descended down through the clouds.
Unusually, I had nabbed a window seat, which was perfect to gain my first view of Rio de Janeiro three minutes later at 15:07.
We landed at 15:16, with about a ten-minute taxi to Antonio Carlos Jobim/Galeão International Airport, with its brutalist terminal design.
Lots of LATAM, and American Airlines planes, along with Azul.
Brutalism in the tropics.
LATAM and American Airlines – a partnership soon to disappear as LATAM leaves the OneWorld alliance, and partners with Delta Airlines.
2PAXfly Takeout
A domestic flight on a LATAM Airlines Brazil, A320 with compact format seats. Perfectly pleasant for a sub-two-hour flight. An awful airport on the Brazilian side of Iguazú – but it is undergoing renovation.
Somehow the brutalism of the Rio Airport seemed right for the country with the Oscar Niemeyer designed capital of Brazilia.
On and out of the airport to meet our guide/driver, and on to the excitement of Rio at Carnivale time, and the gorgeous eye candy of Ipanema beach.