Last day for double Qantas Status Credits! How much do Qantas Status Credits cost?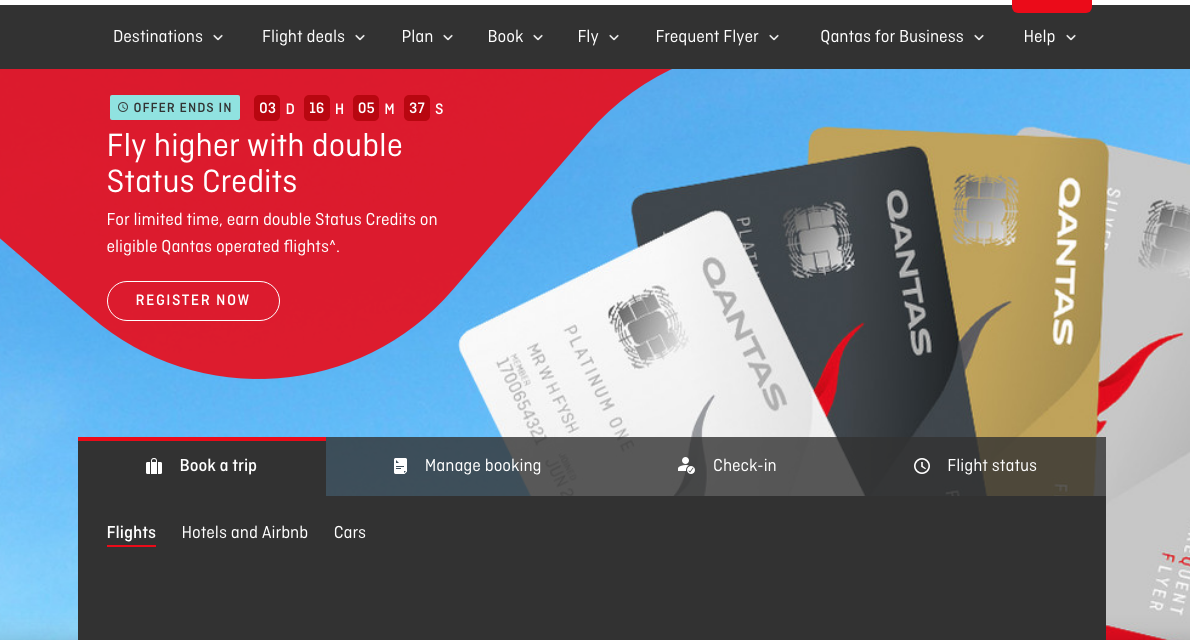 You have until a minute before midnight tonight (AEDT) to book flights and earn DOUBLE Qantas Status Credits
Read this, and go straight to their booking site (and register on your way)!
So, how much do Status Credits cost?
Well, I know you can't buy them directly, but what is their rough price according to how many points you get per trip, and the price you pay for that trip?
I'm quite a cheapskate (thank you, Harold E., my father) – and long ago abandoned loyalty to one airline for international travel. My premium paid-fare airline choices these days are primarily based on cost, and then comfort. That's why we travelled in Business on Vietnam Airlines last time, and not Qantas or Singapore. Although we did expend vast quantities of points with both those airlines to travel First Class to London.
Ok, given my cheapskate nature, I'm going to give you a discount (Red-e-Deals) Economy examples:
Sydney – Adelaide
I do this trip monthly sometimes for business, but mostly to see my family. A current one-way fare on a Red e-Deal is AU$196 (~US$158) and earns me 10 Status Credits. If my maths is correct, that is AU$19.60 (~US$16) per Status Credit. Not a great way to earn Status Credits as you will see . . .
Sydney – United Kingdom
Now last week, Qantas was promoting some ~AU$6,000 flights to London in July. They seem to have completely gone now. Let's use another comparable deal to the UK – Sydney – Birmingham.
So at AU$7,016 (~US$5,630) you get (presuming that these Discount Busines fares count since they are on Emirates) 560 Status Credits – that's ~AU$13 per Status Credit. On the Double Status credits deal that would be 1,120 Status Credits at a cost of ~AU$6.50 each – not bad, as you would get instant Gold Status with that, and you would be within cooee of the 1,400 points you need for Platinum.
Sydney to Singapore
This might be the sweet spot. You can get a discounted Business Class flight to the Merlion state for AU$2999 business Class, or $4,000 for First. And for this, you get 240 status credits for the return trip. So for the Business class fare that's a cost of AU$12.50 per status credit point – or 'with the voucher' that makes it AU$6.25 per point!
But wait, there's more! If you go, First Class, then you get 360 status credits at a cost of AU$11.11 or AU$5.56 per status credit on the double status points deal.
The double status credits deal means you get 720 points, which even with no other points – catapults you into Gold status.
Let me simplify this down: if you did two trips to Singapore, one in Business and one in First, the cost would be ~AU7,000, and you would instantly be Platinum.
Welcome to the business class lounge on domestic, and the First Class lounge on international!
Last Word
If you are trying to max your status credits at the lowest cost –
look for fares that give you better than a cost of AU$15.00 cost per status credit point.
International Business or First on a discounted or sale fare will give you a better rate than domestic fares
book today while the Double Status deal is on – and you will halve the cost of acquiring status credits
Happy trip shopping – but do it today!