QANTAS: First Airbus A220 receives Indigenous Art Series paint job – Minyma Kutjara Tjukurpa – two sisters creation story
Initiating the Qantas domestic fleet renewal program 'Project Winton', Airbus A220-300s will be replacing the current fleet of QantasLink Boeing 717s servicing domestic and short-haul international routes.
Qantas has ordered 20 of the A220s and 20 A321XLR to gradually replace its current domestic fleet of Boeing 737s and 717s. The Group also has another 94 purchase rights over the two Airbus models that can be exercised over the next ten or more years.
About the A220-300
The A220s have double the range of the 717s and burns 28% less fuel per passenger, and are up to 50% quieter. The A220s have a 25% greater passenger capacity than the 717s they replace. The aircraft with 137 seats will be configured in two classes – 10 Business Class seats and 127 in Economy.
The A220 is licensed to hold as many as 160 passengers but more typically has 120 to 150 seats. Delta Airlines in the USA carries 130 seats in its A220s, seven less than Qantas:
We know that Qantas is planning only 10 Business class seats. In a 2-2 configuration means 3 rows on one side and two rows on the other. Presuming Qantas doesn't have a 'Comfort+ section and works on a roughly 31-inch pitch in economy, it could add a row in economy, providing the additional seats. Expect it to look more like the Air Canada seat map below, except one-half row of business becomes economy:
About the paint job
Starting in 1994, Qantas launched the Art Series with Wunula Dreaming on a Boeing 747m since retired.
Australian Indigenous design agency Balarinji has worked on all the Artist Series for Qantas, collaborating with artists and their families.
This aircraft features the work of Pitjantjatjara artist Maringka Baker, telling the story of two sisters who cross the vast distances of remote Australia together to find their way home. The artwork Minyma Kutjara Tjukurpa – The Two Sisters Creation Story, is also the aircraft's name. Other A220s will be named after Australian wildlife.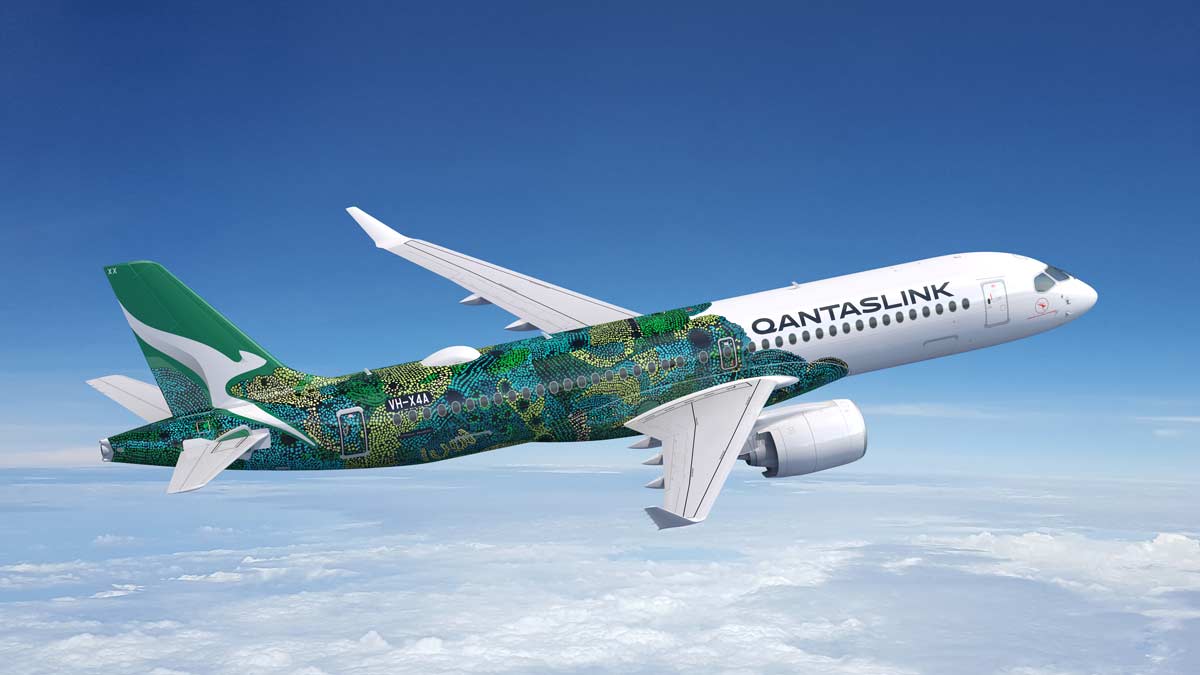 When we will see this aircraft, and where
This first A220 for Qantas (registration VH-X4A) still has some post-production test flights to complete before being fitted with Qantas equipment, with official delivery timed for the end of 2023. Then it will leave Quebec for Australia to operate flights linking Canberra and Melbourne initially. It is the first of six of the aircraft models to join Qantas by mid-2025.
2PAXfly Takeout
This is totally Instagrammable, especially once it lands in Australia sometime before the end of the year.
I love the Art Series paint jobs featuring the work of Australia's First Nations artists. I got a little thrill when I saw the Wanala Dreaming on the old 747 or Yam Dreaming, or my favourite, Mendoowoorrji on a Boeing 737