QANTAS: To make Project Sunrise announcement tomorrow (Monday, 2 May)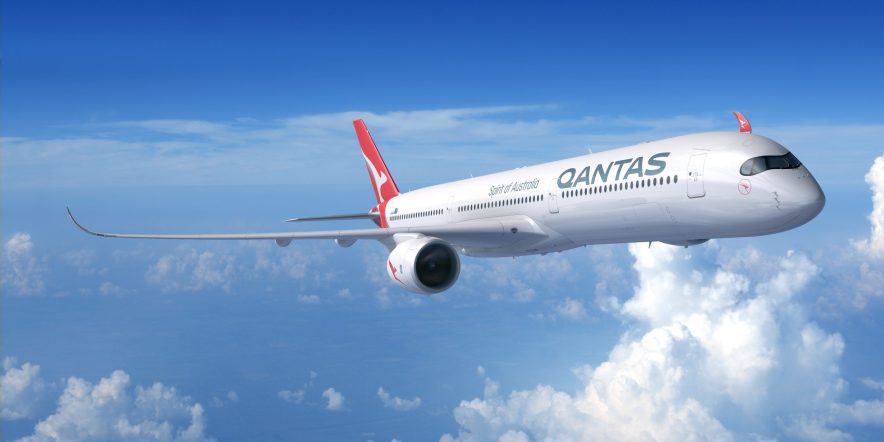 There are multiple Tweets speculating that an A350 bound from Toulouse is an official test flight for a new Qantas liveried Airbus A350-1000, to arrive in Sydney tomorrow in time for Qantas to announce the resumption of Project Sunrise. A press conference scheduled for 8:30 am Monday, Sydney time, and "a cocktail reception to celebrate four decades of Airbus partnerships with the Australian aviation industry" timed for the same day evening tend to support a Sunrise Project announcement.
More evidence
ET is speculating that Qantas will announce the order of 12 ultra-long-range Airbus A350 jets to service Project Sunrise at the event in Hanger 96 at Sydney Airport, and confirms the media event invitations. Unfortunately, I don't seem to have gained entry to that particular invitation list! (Hurumpf!)
Part of a larger Airbus order
The Guardian is citing a Sunday West Australian newspaper article that states (without citing sources) the Qantas order would includes multiple models: 12 x A350s, 20 xA321XLRs and 20 x A220s as well as purchase rights for 106 more aeroplanes across a range of models. Qantas has previously announced that it will be Airbus models that will replace its extensive largely domestic fleets of Boeing 737s.
While the A350's will be used for Project Sunrise destinations, the single aisle A321XLRs – extra-long-range, capable of flying 4,700 nautical miles on a single fueling will presumably be used for Asian destinations, like Sydney –Tokyo, and some routes to the Pacific, even Hawaii. My bet is these will largely end up with 1 or 2 class Jetstar services, as it's more difficult to provide a medium/long haul premium service with only a single aisle.
WTF is Project Sunrise?
This project will revolutionise passenger air travel with non-stop, that's right, non-stop flights between Australia's east coast and destinations such as London, New York and Paris, originally by 2022, but now from mid-2025. Depending on its success, other destinations in North and South America and Europe could follow in successive years. These flights will run between 18 and 20 hours and will be some of the longest flights available.
Expect to see some new cabins with this launch including new First Class and Business Class and Premium Economy, and probably Economy to meet the different demands of these ultra-long-range flights.
Project Sunrise was announced back in 2017 but was put on ice for two years during the pandemic. Looks like it has thawed, and is a couple of years away from actual flights.
How Much?
Here's the rub. Expect to pay about 30% more for these direct flights, than those with a stopover, according to Alan Joyce, Qantas CEO. That's quite a premium and may put some tourists off. Especially if all that money we have saved during COVID when we couldn't travel has run out due to inflation. My suspecion, or maybe just my preference is that people will go for a 'hybrid' fare – heading out on a Project Sunrise flight to get them there quickly, but returning home with a stopover in Asia, to relax before facing the reality of home.
2PAXfly Takeout
I love digital, except when my phone dies, which happened to me on the last night of my recent visit to New Zealand
Project Sunrise will be an actual game-changer, revolutionising the way Australians travel to the world and the way the world travels to Australia. It will see the diminution of the stopover, threatening transit points such as Singapore, Hong Kong (although already bypassed for other reasons), Bangkok, Dubai, Los Angeles and Santiago, Chile.
The Sunrise Project will also see the end of the A380 in the air for Qantas, which I will mourn. It might get a reprieve as the 'slow' way to get to high volume destinations like London, but, eventually, it will be the death of the Super Jumbo.
For Business Class and First Class passengers this will be an excuse to luxuriate in Qantas comfort and service for longer or to get more work done if flying for business, as long as Qantas introduces onboard WiFi. It will probably lead to an increase in Premium Economy seats, as more passengers will want more comfort for these long flights. The Economy Cabin will also need to improve, as being confined for 20 hours compared to 12 or 14 means enduring discomfort for about a third longer,
I am excited about this innovation, dismayed at the imminent demise of the A380 and concerned at the disappearance of the multi-day stopover on the return from Europe. I love a couple of days of R&R after a hectic trip to Europe.
I can't wait to view 2 sunrises on my way to Europe! Is an onboard shower too much to ask for on a 20-hour flight?