American Airlines & JetBlue: When competitors Join forces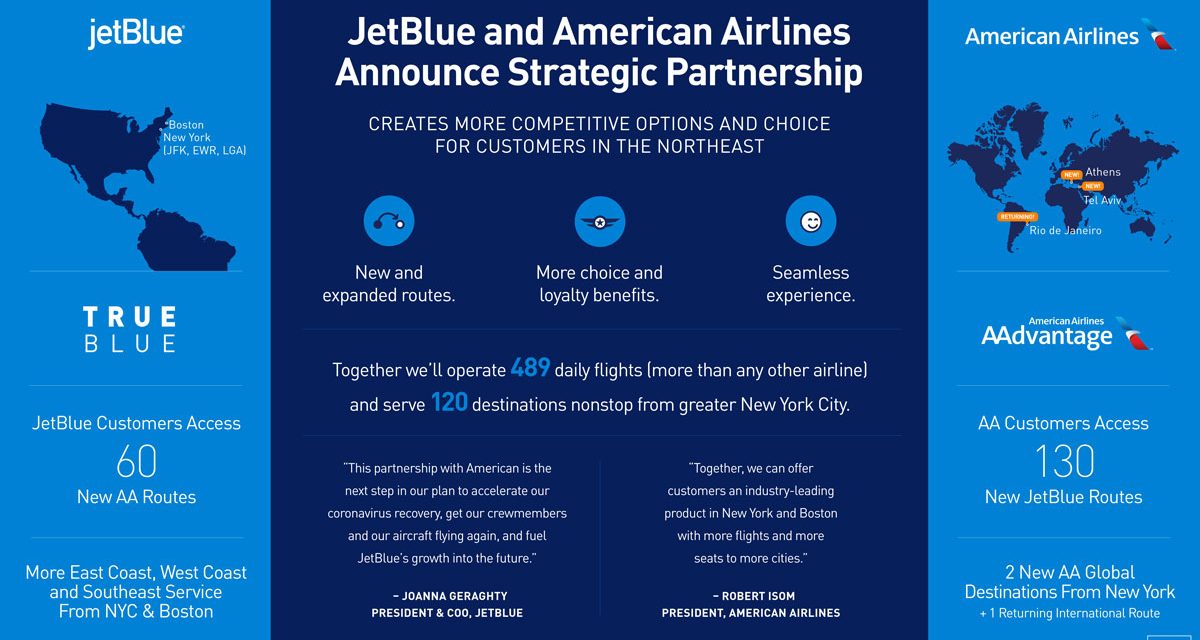 It looks like the pandemic puts former foes in bed with each other.
Domination of the northeast
JetBlue is largely a domestic carrier, with a reputation for great service (especially its Mint premium service) which has led it to dominate the northeast of the USA which focuses around New York and Boston, while American Airlines, has essentially left that market to its rivals, most notably Delta Airlines.
JetBlue has a big presence at John F. Kennedy Airport (JFK) with a pre-COVID-19 36% share of traffic. Delta comes close, and American comes in third with around half that percentage. However, American Airlines has ambitions to return JFK into a major trans-Atlantic hub, now to be partly fed by domestic traffic from JetBlue.
This deal looks mutually beneficial in that it gives American Airlines access to the north-east, and gives JetBlue access to an extensive existing international network.
What the deal is
It is an alliance agreement that includes codeshare and mutual loyalty benefits. The mutual benefits will allow each airline to progress new route plans:
AA will commence new routes from New York to Tel Aviv in Israel, Athens in Greece, and a revived daily seasonal route to Rio De Janeiro in Brazil )in 2021)
JetBlue will increase its presence at JFK, as well as increasing flights at Newark and LaGuardia
JetBlue gets access to AA's international network out of JFK
AA customers get easy access to JetBlue's Mint premium service and its routes to the West Coast
More seamless transfers between airlines and access to better schedules and fares
JetBlue customers will gain access to more than 60 new routes operated by American Airlines
American Airline's customers will get access to more than 130 routes operated by JetBlue
Both airlines claim that the talks about this partnership deal started before COVID-19, but, the advent of the pandemic sure made this deal advantageous. With the air travel market in decline, this co-operative agreement will assist the recovery of both airlines.
What's good for the west coast is good for the east coast
Earlier this year, AA firmed up Seattle as their international gateway for west coast flights to Asia and India, by negotiating a similar codeshare deal with Alaskan Airlines.
Alaskan Airlines is also about to join OneWorld, the same alliance as American Airlines belongs to. Does this mean that JetBlue might contemplate joining OneWorld too? Well, not at the moment, anyway.
This is really all about competition with United & Delta Airlines
Delta and United are American's primary competitors, so these partnership agreements with Alaska and JetBlue on the east and west coasts strengthen American's position, especially when Delta has been pumping up its presence in Boston and New York.
2PAXfly Takeout
The aviation industry has a difficult road ahead when it comes to sustainability. It's going to require a relative revolution in technology, with 'electric planes' or hydrogen planes, or some form of jet engine that doesn't require a carbon based fuel. And that is going to require the development of an alternative to jet engines probably.
It's a big ask. It will take time to develop.
This move to home grown and manufactured SAF is a first step – maybe even a baby step in a very long road of innovation. In the long run, US$200 million won't even touch the sides.
I've never flown with JetBlue, but was planning to between New York and Miami on the way to the Caribbean late this year, but then Qantas cancelled the flights to New York, amid the whole pandemic thingy, so goodbye to the Mint class and the whole TWA hotel experience!
This codeshare agreement will be interesting, since JetBlue has an enviable reputation for service, while American's in-flight service is generally agreed to be execrable. JetBlue is seen as the innovator, whereas American is seen to be stuck in the past.
This Pandemic is bringing together strange bedfellows, isn't it.